Applied Materials Misses Forecast, Hits Two-Year Low
Applied Materials (NASDAQ:AMAT) stock hit a nearly two-year low Friday after the No. 1 chip gear maker late Thursday reported Q3 revenue that missed Wall Street's forecast and offered lackluster Q4 guidance.
CEO Gary Dickerson blamed unexpectedly floundering foundry sales for the Q3 revenue miss and lowered Q4 guidance. Thrifty customers have become adept at reusing their tools rather than ordering more, he said during the Q3 earnings conference call.
"So what we see in foundry is, in our fourth quarter, it's less than we anticipated," he said. "And we even saw, as we mentioned in my notes, that we had about an $8 million push-out of a foundry booking — or a cancellation, rather."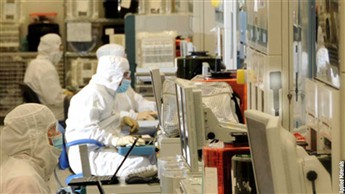 In its fiscal Q3 ended July 26, Applied Materials reported $2.49 billion in revenue, up 10% vs. Q3 2014, but still short of analysts' forecast $2.54 billion. The company met Wall Street's earnings views of 33 cents per share ex items, up 18%.
Orders Up Significantly
Third-quarter orders were up 17%, led primarily by a $2 billion jump in silicon system orders, CFO Robert Halliday said on the call.
Nand flash memory orders hit an all-time high, helped along by healthy demand for 3D chips, Halliday said. For...
More